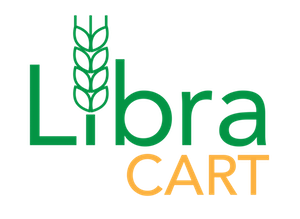 Libra Cart is a tablet and smartphone-based grain cart weighing and data management system. The Libra Cart hardware device mounts directly onto your grain cart and wirelessly communicates with the Libra Cart app running on a compatible mobile device in your tractor cab. Libra Cart's patented technology automatically records the date, time, weight, and GPS location of each grain cart unload, and provides load tracking from field to truck to destination. It's easy to set up and simple to use for operators of all ages and technological skill level.
Libra Cart is currently compatible with iPad 3 or newer, iPhone 4S or newer, as well as Android devices running versions 4.3 or newer with Bluetooth® Smart. Please note that all of our updates/new features are developed for iOS devices first.
To purchase a replacement battery, visit your Agrimatics dealer or click here.